Dynastarters - Bosch type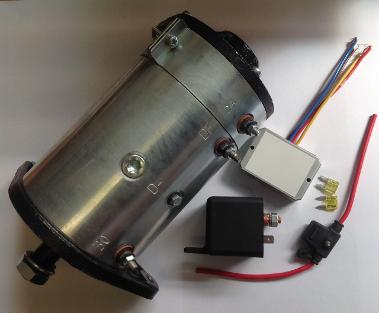 Part No. 1
Brand new (not reconditioned) 12 volt Bosch type dynastarter - 12v (14v) 11a - 0.9kw
Clockwise rotation - Right - hand mounting (viewed from the pulley/drive end)
Replaces:
Bosch
0010300003
0010300101
0010350005
0010350102
Electro-plated anti-rust finish - Outright purchase - No p/x required
Exactly the same dimensions and connections as original Bosch units
17 mm diameter shaft with keyway
Woodruf key, washer and nut supplied
Ideal drive ratio is 3.5:1 to 4:1 onto a Vee pulley or direct onto a flat flywheel
We have some single and double Vee pulleys available - 70, 85, 90, 100 and 105 mm diameter
Please telephone or email your requirements.
OE equipment on some continental motorcycles and cars.
Perfect for adding electric starting to your veteran car, boat or stationary engine.
Available as dynastarter only or complete with our control kit
(Control kit comprises - Starting solenoid, electronic regulator, fuse holder/fuse and fitting instructions)
Due to weight, these units are sent out by carrier.
Other units available to order e.g. anti-clock rotation and left hand mounting. Please enquire.
PLEASE MAKE SURE YOU SELECT THE SHIPPING OPTION TO SUIT THE COUNTRY YOU LIVE IN
FAILURE TO DO THIS CORRECTLY WILL RESULT IN YOUR ORDER BEING CANCELLED AND YOUR MONEY REFUNDED
Replacement Dynastarter Control Kit
For Cars, Motorcycles and Boats
Our Dynastarter control kit replaces worn or faulty original mechanical devices and uses the existing standard wiring.
Fit-it-yourself. Gives a lower cut in speed, better charging and reliable starting **.
Fully sealed units so ideal for marine applications where damp/salty air causes problems.
Instructions and mounting kit included.
Also use when fitting a Dynastarter to a veteran car for perfect starting and battery charging. We can also supply some new and reconditioned Dynastart units suitable for this purpose - Please enquire for details
Part No.2
Suitable for BOSCH, SIBA, Noris and all other 2 brush Dynastarters or 3 brush Dynastarters properly converted to 2 brush machines.
A Solid State Electronic Regulator, a Heavy Duty starting Relay and a
waterproof inline fuse with holder.
16a and 22a versions include a heat sink to aid cool running.
Negative earth.
DS1 suits all bubble cars and small motorcycles with 8 amp Siba dynastarters
DS2 suits Bosch 11 amp dynastarts (Volvo Penta etc)
DS3 suits larger Bosch and other units with up to 15 amp dynastarters
DS4 suits Siba applications where 12v charging/ 24v starting is used
(start relay operates on 12v but switches 24v)
DS5 suits higher output dynastarters as fitted to some NSU and Honda cars
HS1 Self adhesive heat sink available for use in hot under bonnet or engine room conditions.
** If your dynastarter is in good condition with a healthy output