LED compatible Flasher Units
Audible flasher units in 6v and 12v - part number 1
Electronic DB10 relays - part number 6
Retro -fit indicator switches - part number 7
You will need an LED compatible flasher unit to flash LED bulbs.
They are not load sensitive unlike standard flasher units.
Choose from types available below.
Price reduction on some flasher units (part No. 2) now £6.00 each plus VAT.
Traditional terminal layouts.
Part No. 1
The Ultimate LED Flasher Unit!
Easy to fit. 2 or 3 terminal in one unit.
Terminals marked X L and P
X is power in - L is flashing out
P powers a dashboard tell tale - Leave open if not required.
Flying lead must be connected to earth.
Will flash LED's or a mix of LED and filament bulbs at the legal flash rate.
Suitable for hazard warning lights.
Traditional audible ticking sound.
6v Negative earth
6v Positive earth
12v Negative earth
12v Positive earth
Includes rubber mounting sleeve.
Connection instructions are on the box for easy reference.
Use in new installations or to replace original units.
* In some cases with mainly pre war cars it may be found that on starting the engine, the indicators flash very fast or even stay on.
This is caused by interference from a magneto, HT coil or dynamo and in most cases, can be cured by fitting our suppressor kit, part number 3 below *
Part No. 2
Easy to fit. 2 or 3 terminal. 12v negative earth.
Will flash LEDs or a mix of LED and filament bulbs at the legal flash rate
CF12 has two terminals - Live in and flashing out
Both types of three terminal have live in, flashing out and earth, the only difference is the terminal configuration.
CF13 has B (BATTERY), L (LIGHTS) and E (EARTH)
CF14 has 31 (EARTH), 49a (LIGHTS) and 49 (BATTERY)
CF 13 and CF14 have a traditional audible ticking sound
Use in new installations or to replace original units.
Interference suppressor
Part No.3
You might find that you've fitted indicators to your classic and they work fine..........until you run the engine!
With the engine running they go haywire.
This little gadget simply connects to the flasher unit to restore normality
Works on 6v or 12v, negative or positive earth
Supplied with a convenient piggyback spade terminal and simple fitting instructions
Part No.4
These handy little sounders emit a continuous 94db beep when a voltage between 5v and 24v is applied.
When connected alongside or in place of your indicator tell tale(s) they provide an audible warning that your indicators are on by beeping with every flash.
No more leaving your indicators on after a turn!
Part No. 5
The problems......
1. You've fitted LED indicator bulbs and a 2 pin flasher unit to your car or motorcycle. Everything worked fine with the original bulbs but now when you put the indicators on they all flash like hazard warning lights. This is because the new LED bulbs require so little current that the tell-tale bulb passes enough to flash all indicators at once.
2. You have a 2 pin flasher unit on a positive earth system with a single tell tale
The answer....... our simple to fit LED fix kit.
Comes with a connection diagram. A simple alteration to the wiring at the tell-tale and your indicators will work as they should.
Works on 6 and 12v
Positive and Negative earth versions available
NO LONGER AVAILABLE
LED Flasher Fix Kit with Tell-tale
Part No.6
Same as part number 4 but including a Durite green tell-tale light.
Ideal for new installations.
Tell-tale requires a 12mm hole to mount.
Available in 6v or 12v
Positive or Negative earth
NO LONGER AVAILABLE
Part No.7
An electronic copy of the Lucas DB10 relay that looks just like the original.
Allows you to flash you brake lights as indicators on pre September 1965 cars
Gives hidden rear indicators
Use with our amber/white sidelight/flasher bulbs and gain hidden indicators for that original or retro look.
Suitable for 12v positive or negative earth
Connection instructions included
Lucas type DB10 flasher/stoplight relay
INDICATOR SWITCHES
COLUMN AND PANEL MOUNT SWITCHES
PART No. 8
High quality period looking indicator switches.
Column mount types have Bakelite base with no tell-tale.
Adjustable strap fits around any steering column.
Panel mount type has no tell tale and requires a 25mm diameter mounting hole.
Simple to fit.
Suits 6v and 12v vehicles
RETRO FIT HAZARD WARNING SWITCH
THE EASY WAY TO ADD HAZARD WARNING LIGHTS TO ANY CAR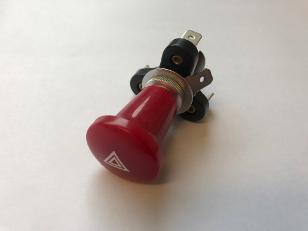 PART No. 9
Our simple to fit hazard warning light switch kit means you can retro fit hazard warning lights to ANY vintage or classic car that's been converted to LED indicators or has a mix of LED and filament bulbs.
Pull the switch and it flashes along with all four indicators
No complicated extra wiring or heavy duty flasher relay required.
Just 4 simple wires to connect
Wiring diagram and instructions included.
Suits 6v or 12v vehicles.