Bulbs for Flashing Indicators and Trafficators
For LED flasher units click HERE
BA15s is a 15mm cap with parallel pins and one contact which is live, the cap body being earth
The general rule is - Use an amber bulb behind an amber or white lens
IN THE SHOP NOW:
Part number 13 - Rubber retro-fit lamps
6v and 12v 36mm Flashicator bulbs for FORD trafficators
Part No. 1
6v 21w AMBER BA15s
Direct replacement ultra low power consumption LED bulb.
Replaces a standard 21w indicator bulb.
Lights bright amber behind a clear or amber lens.
Restores colour to faded amber lenses.
Available in negative or positive earth.
Requires our LED compatible flasher unit
Part No. 3
21w WHITE BA15s
Direct replacement ultra low power consumption LED bulb.
For use in amber or white flashing indicators.
Can also be used for stop lamps, fog lamps and reversing lamps.
Use in lamps where the bulb faces outward
Available in negative or positive earth.
Requires an LED compatible flasher unit available below
Flashing festoon bulbs for trafficators
Part No. 5
OUR FAMOUS FLASHICATOR BULBS
Why trafficate when you can FLASHICATE!
Very bright low power consumption 36mm long amber LED festoon bulbs with a difference.
When the trafficator arm is raised, the bulb lights amber on both sides and flashes!
No separate flasher unit required.
A straight swap for your old bulb.
They will work on negative or positive earth vehicles.
Watch the demo HERE
A must have if using trafficators on todays roads especially after dark.
Available in:
6v and 12v 36mm with flat or pointed caps to suit British trafficators inc Lucas, Trico etc
6v and 12v 36mm to suit FORD trafficators with grooved caps
6v and 12v 31mm to suit Bosch, SWF and SHO trafficators as fitted to VW's etc.
36mm type have 6mm or 7mm end caps.
31mm type have 7mm end caps
(Click on the pictures to enlarge)
6mm caps have flat or pointed ends. 7mm caps have pointed ends.
Trafficators should be in good, serviceable condition
Prices are per pair
See also our Flashicator window sticker below.
Part No. 7
NON FLASHING TRAFFICATOR BULBS
Direct replacement bright amber bulbs for trafficators
Just like our famous Flashicator bulbs but these are not self flashing
Very bright low power consumption 6v or 12v 36mm longamber LED festoon bulbs with 7mm caps.
Use to make your trafficators brighter.
Can be used where trafficators work with flashing indicators or made to flash with flashing indicators if the trafficator internal wiring is suitably altered.
NO LONGER AVAILABLE
Part No. 10
Tells following drivers (especially the younger generation who only recognise a flashing amber light as a turn signal) that you are not using conventional flashing indicators.
Draws attention to and warns of the fact that you are using not just trafficators but flashing trafficators.
Reverse printed so it sticks inside the rear screen facing rearwards.
Traditional font. Self clinging - Non sticky
27.5cm x 7cm

Flashicator window sticker
Part No.11
These handy little sounders emit a continuous 94db beep when a voltage between 5v and 24v is applied.
When connected alongside or in place of your indicator tell tale(s) they provide an audible warning that your indicators are on by beeping with every flash.
Part No. 4LB7
40mm diameter light board.
Gives a bright amber light for flashing indicators.
Converts Lucas 539, 594, 691 and 794 and many others to LED operation.
Ideal for 6v VW Beetle indicators
Can be used behind a white or amber lens to give an amber flasher.
Use to replace festoon bulbs or where existing bulbs face up or sideways
Available in 6v or 12v, negative or positive earth.
Supplied with fitting kit and instructions
Can be bedded on silicon in tight spaces.
Requires our LED compatible flasher unit
Part No. 6
NO LONGER REQUIRED WHEN USING OUR LED FLASHER UNIT
Self-cancelling buzzer kit
Part No.8
A clever little buzzer with just 3 wires to connect.
Sounds when left or right indicators are used.
Putting your foot on the brake (such as when waiting at traffic lights or a T junction) cancels the buzzer but still allows the indicators to flash. Release the brake pedal and the buzzer sounds again reminding you to cancel your indicators.
No more leaving your indicators on after a turn.
Ideal for forgetful people!
Suits 6v or 12v, Positive or Negative earth
NO LONGER AVAILABLE
LED Flasher Fix Kit with Tell-tale
Part No.9
Same as part number 8 but including a Durite green tell-tale light.
Ideal for new installations.
Tell-tale requires a 12mm hole to mount.
Available in 6v or 12v
Positive or Negative earth
NO LONGER AVAILABLE
Part No. 12
Handy small rubber bodied lamps
A simple way of adding discreet indicator, side or stop/tail lights to any vintage or classic car.
Small enough to fit under wings or bumpers etc.
Total width across rubber - 42mm
Total length - 95mm
Diameter of lens - 33mm
Choose either amber, red or clear lenses,
(Picture shows amber lenses fitted)
then choose BA15s, BA15d or BAY15d holders.
Choose your required bulbs from elsewhere in the shop.
Fitted with a handy (removable) steel mounting bracket.
Sold in pairs or in sets of four.
Hazard Warning Light Switch Kit for LED Indicators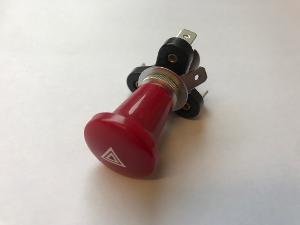 Part No. 13
Our simple to fit hazard warning light switch kit means you can retro fit hazard warning lights to ANY vintage or classic car that's been converted to LED indicators or has a mix of LED and filament bulbs.
Pull the switch and it flashes along with all four indicators
No complicated extra wiring or heavy duty flasher relay required.
Just 4 simple wires to connect
Wiring diagram and instructions included.
Suits 6v or 12v vehicles.
Part No. 14
A simple way to add discrete flashing indicators to any classic or vintage car.
Ideal for cars of the 20's, 30's and 40's era
Just £135.00 + VAT
The kit consists of:
4 x Rubber lamps with metal bracket and BA15s bulb holder
4 x Amber LED indicator bulbs
1 x LED flasher unit
1 x Indicator switch
You choose the colour of the lenses, the voltage/polarity and which type of switch you'd like
Remember: Our amber LED bulbs will shine amber through a clear lens. This gives really discrete indicator lamps.
You just add simple wiring