CLASSIC DYNAMO & REGULATOR CONVERSIONS LTD
ALL INTERNATIONAL AND EUROPEAN UNION
CUSTOMERS PLEASE READ THIS BEFORE PURCHASING!
NON UK BUYERS
YOU SHOULD EMAIL YOUR ORDERS TO US SO THAT WE CAN ADD APPROPRIATE SHIPPING COSTS
DO NOT ORDER THROUGH THE ONLINE SHOP
THIS IS DUE TO THE AMOUNT OF PACKETS BEING "LOST" AND SHIPPING COSTS BEING HIGHER NOW.
ALSO WE WILL ONLY SEND TO NON UK/EU DESTINATIONS USING A TRACKED SERVICE TO ENSURE THAT IT GETS TO YOU.
We regret that as of 8/9/2023 we will
no longer post to Eire (Ireland)
This is due to the amount of packets returned to us for no good reason by customs.
Services to Northern Ireland are not affected.
info@dynamoregulatorconversions.com
PLEASE USE OUR PART NUMBERS WHICH CAN BE FOUND IN OUR ONLINE SHOP. WE ALSO NEED YOUR PAYPAL EMAIL ADDRESS.
IF YOU WISH TO PAY BY CARD, PLEASE TELEPHONE YOUR ORDER TO US DURING OFFICE HOURS (UK TIME) ON +44 (0)1522 703422
International Customers
Please note: Orders from
outside the UK are not subject to VAT by us.
They could well be subject to VAT payments, import duties and taxes when the goods reach your country (please check your country's customs for any tax exemptions/limits).
Legally, we declare the full value of the goods (excluding delivery charges) on all parcels to be delivered outside of the UK. We have no control over any tax and duty charges and cannot predict what they will be.
Any VAT or customs costs incurred are payable by the receiver.
Scroll down - Each picture represents the products described underneath it. Click on the text to be taken to that section of the shop.
We sell and ship worldwide so prices shown do not include VAT
UK VAT at 20% for UK customers and postage (shipping) is added at checkout.
All items sent within the UK are sent 1st Class Royal Mail. Items sent outside of the UK are sent by Air Mail. It is down to you to make sure that the delivery address on your PayPal account is correct. We will only post to a confirmed PayPal address. We cannot accept responsibility for items lost in the post or sent to the wrong address.
Our LED products are available in 6 or 12v to suit negative and positive earth systems.
Our LED products are designed by us and made especially for us.
They enable you to dramatically lower the load on your dynamo and gain better lights without altering the external appearance of any lamp
All our LED bulbs fit into original holders with no need for clumsy adapters.
Our light boards come with a simple fitting kit and easy to follow instructions.
All our products are designed to work on a regulated DC system.
They will not work on regulated AC or unregulated AC systems.
Some bulbs are polarity sensitive, some are bi-polarity.
Bi polarity bulbs suit positive or negative earth systems.
THERE IS A BULB OR LIGHT BOARD FOR EVERY LAMP!
If you're not sure then just pick up the phone and ring your order through and pay with a debit or credit card - 01522 703422
Orders will usually be dispatched within 3 working days
We post worldwide weekly on Monday, Wednesday and Friday
(excluding bank holidays)
When you click on CHECKOUT you will be directed to the PayPal secure site to complete your transaction.
You will receive email confirmation of your order from PayPal.
Please double check your order before proceeding to checkout.
If you have any questions about the suitability of any product for your vehicle please telephone during working hours before ordering.
Please make sure you are ordering bulbs with the correct caps to suit your vehicle
We operate a policy of continuous improvement to all our products
Strictly speaking, LED bulbs aren't road legal but this is really because the technology has moved quicker than the law.
We have to advise customers that all our bulbs have to be sold for off road use only.
OUR SHOP COUNTER AT SAXILBY IS OPEN
MONDAY TO THURSDAY 9am - 4pm
FRIDAY 9am - 1pm
CLOSED WEEKENDS & BANK HOLIDAYS
To avoid making mistakes, please read this before ordering bulbs
The word filament and all wattages quoted refers to original type bulbs and are for for reference purposes only.
Our LED bulbs emit a fuller, more intense light than a standard filament bulb.
Our LED light boards give a much better light spread and brightness than the fitting of LED bulbs would do in certain lamps (where original bulbs are mounted sideways or up/down and not pointing outwards)
Where no reference is made to polarity the item is bi polarity and will work on negative or positive earth DC systems.
A 1156 bulb is a single filament bulb. All single filament bulbs have parallel pins.
A 1157 is a twin filament bulb. Twin filament bulbs have parallel or staggered pins
E10 or MES is a 10mm cap screw in bulb
BA7s is a 7mm cap with a single contact
BA9s is a 9mm cap with a single contact
T10 is a 10mm cap push in fitting
BA15s is a 15mm cap with parallel pins
BA15d is a 15mm cap with parallel pins
BAY15d is a 15mm cap with staggered (offset) pins
BPF or P36d is a 22mm cap with a 36mm pre focusing washer attached
APF or P15d is a 15mm cap with a pre focusing washer that has 3 keyholes in it
BA20d is a 20mm cap with 2 locating pins
The general rule with LED bulbs is - USE A RED BULB BEHIND A RED LENS USE AN AMBER BULB BEHIND AN AMBER LENS USE A WHITE BULB BEHIND A WHITE OR CLEAR LENS.
This is due to the intensity of an LED bulbs output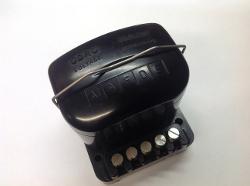 EUROPEAN DELIVERIES
If you are ordering from within the EU, you will
pay VAT at your local rate before delivery and
maybe an import tariff of approx. 5% on some
items items that are not made in Europe or the
UK
Our VAT registration number is 186 2289 76 GB
Our company number is 9906284
Our Terms & Conditions for trading can be found HERE