For SIBA and BOSCH DYNASTARTS as fitted to
BMW Isetta - Heinkel Trojan - Goggomobile - Messerschmitt bubble cars, Berkeley microcars - three wheelers - motorcycles and watercraft.
The alternative to the unreliable regulator solenoid set up shown below.
With the unit facing you (the 3 terminals 51/30 - 50 - 61/D+ towards you) the centre and right hand solenoids are the trouble prone regulator and cutout. The left hand solenoid is the starting solenoid and doesn't often give trouble. If your starting solenoid has failed I can supply a standalone enclosed solenoid.
Now you can have a modern, reliable and efficient electronic regulator installed inside your original case.
Bubblecars and microcars with Dynastarters have an electrical load very close to the maximum rating of the charging section when their lights are on. This leaves little room before overloading the causes damage and dynamo failure.
Overload protection is incorporated into the electronic regulators we supply as an essential safety feature.
Please note: We can now cater for the Dolphin/Siba 24v starting/12v charging system as found on some watercraft.
This picture shows the control box from the back so the troublesome solenoids are the one in the middle and on the left.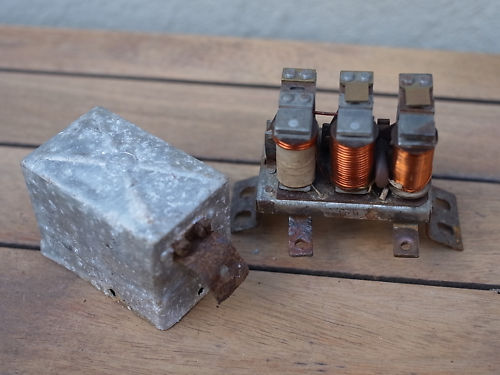 New old stock genuine or cheap mechanical pattern items are a 50 year old design and therefore inefficient in comparison as they have current consuming solenoids to energize in order to work. These solenoids use valuable current that could be powering lights etc.
Please email with details of your particular vehicle/installation.
A solid state electronic regulator costs just
£179.95
installed in your original Siba or Bosch case with 12 months guarantee.
We also supply standalone starting relays and regulators where originality is not of concern.
Fit it yourself Standalone Dynastarter control kit
12v starting solenoid, 12v electronic regulator, inline fuse and holder inc. instructions from £129.95
"A small price to pay for peace of mind"