We've some great new products for you
Products designed to enhance your cars drivability, to let you see and be seen.
Now available - P36d (BPF) and BA15d LED bulbs that can be used in Lucas lamps with a tripod arrangement such as some pre war King of the Road lamps and 50's P700 types. All have a great beam pattern and colour 4300k for that classic look.
Back in stock - Our great P36s (BPF) LED bulbs for Lucas driving and fog lamps
There's a great new light board that turns any rear wing mounted dim tail or stop/tail lamp into a bright red stop/tail with a flashing indicator that flashes amber through a red lens (See below)
Great if you don't want to add seperate flashing indicators.
All these products are tested not only on the bench, but also in real life on our own vehicles so we know they will work and do what you want them to do.
Great news!!!
If you've been waiting for our new stop/tail and indicator light board to fit Lucas 549, 471 and similar rear wing mounted lamps, then we've good news
Our great new design to enable you to add hidden indicators to any old car is now in production and we will have them any day now
Indicators flash bright amber through the red lens
Available in 6v and 12v, negative and positive earth and are simple to fit
STOP or TAIL
TAIL STOP WITH INDICATOR ON
Due to the current climate and the shortage of silicon/electronic components, some of the parts that we use to build our high quality electronic regulators, are in short supply. For this reason, suppliers have increased their prices. We have until now, been able to swallow this extra cost but regretfully we now need to increase our prices as the latest batches of regulators have cost significantly more to build.
We will not subtitute components for cheaper brands as this keeps our quality and standards very high.
What's new at CDRC?
The Double Dipper Pro range gives a perfectly pre-focused beam of light right where you want it.
Available in:
BA15d
P36d (BPF)
BA20d
BA21d
P30d (APF)
6v and 12v negative & positive earth
Will pass a UK MOT test.
Legal when fitted to pre 1986 cars & motorcycles
Not suitale fot Bi-flex headlamps or lamps with a reflector in front of the bulb unless this is removed
NEW!!!
We manufacture and sell the BIGGEST range of replacement cut out and regulator lids and covers
Exact copies of originals
Available in BROWN or BLACK to fit:
RF91/92
CFR2
RJF regulator cover
RJF fuse cover with screw
CJF2 cut out cover
CJF2 fuse cover with screw
RF50
CJR3 cut out cover
CJR3 fuse cover with screw
CJF
CF1
CF3
RB106 (also fits our ADR106)
RF95 (also fits our ADR95)
Part numbers 5 and 6 HERE
ALSO
Genuine Lucas RB340 regulators that we've restored and fitted with our ADR electronic internals
Forget nasty, cheap Indian made replicas that don't last and don't look right
These are the real thing
Direct replacement - Fit and forget
See them HERE Part number 4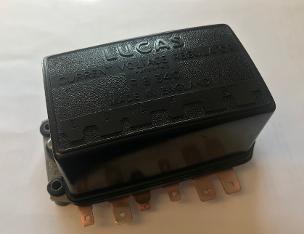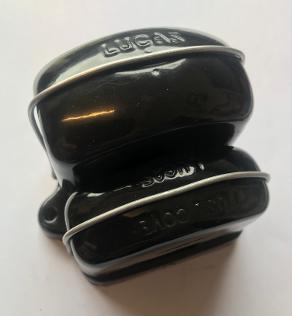 The ADR CF1, replaces Lucas CF1 cut out units, complete with our electronic cut out inside. Brand new units with new lids, terminals and clips
6v or 12v, negative or positive earth
Fits Austin 7, 12/4 and many others
Genuine Lucas 7" H4 headlamp units
Along with our conversion package that converts dim old 7" sealed beam, P45t or BPF lamps to take our ULTIMATE H4.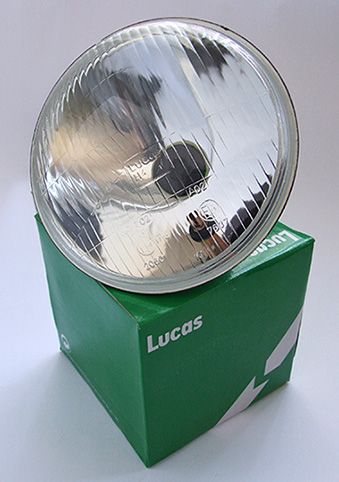 The H4 LED bulb you've been waiting for!
Our latest ULTIMATE P43t H4 headlamp bulbs are in our online shop. Part number 2
The same size as a std bulb and with no external driver
Perfect beam pattern!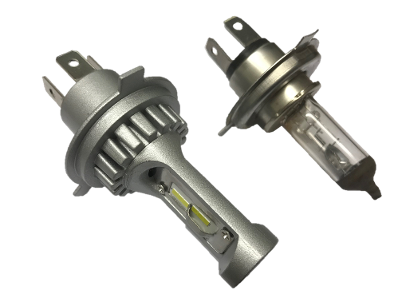 DIPPED BEAM MAIN BEAM
CLICK ON THE PICTURES TO ENLARGE THEM
Advanced Dynamo Regulators is CDRC Ltd's electronic dynamo regulator.
We make them right here in the UK.
Why Advanced? Well, because our ADR range is by far the best and most reliable regulator available.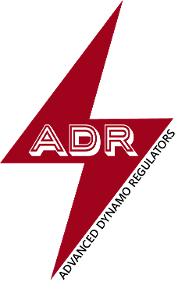 Our tried & trusted direct replacements for the original Lucas
RB106 and RF95 regulators.
Outright purchase. No waiting.
Brand new and exactly the same as original units but ours have our trusted and proven electronic regulator inside.
Available in 6v or 12v negative earth and positive earth .
Fully fuse protected.
Forget cheap and nasty Indian made copies.
These units are entirely British. Made here in Lincolnshire using top quality components. You can even fit an original LUCAS lid to retain original looks from the outside if you prefer.
Please enquire for more details.
Trade enquiries welcome.
--------------------------------------------------------------------------------
The ADR range uses our amazing "B" type field electronic regulator.
It's taken us over 3 years to develop and test these units to make them the best. We tested beyond normal use on our in-house test bench and also "real life" on vehicles so that we can make them as bullet proof as possible.
We use only the best quality components sourced from reputable manufacturers. They produce only minimal heat.
The PCB's are made and assembled by a reputable company right here in Lincoln. They meet or most often, exceed all current manufacturing standards.
We're proud to encourage and support British manufacturing.
The ADR106 and ADR95's aren't cheap compared to the sub standard Indian made mechanical units available because they don't compare with them. They look every bit as good and correct as the original Lucas units that they are designed to replace.
Design, build and performance wise they leave everything else behind.
They are an amazing piece of British engineering and won't let you down.
You will not find a better unit - Guaranteed!
Click HERE to read more about the ADR range
Outright purchase - Replaces Bosch 0 010 350 101
Ideal for adding electric starting to veteran cars, stationary engines and boat engines.
Also available with our dynastarter control kit
The CDRC Ltd ULTIMATE 12v H4 LED dipping headlamp bulb
Made from aviation quality aluminium .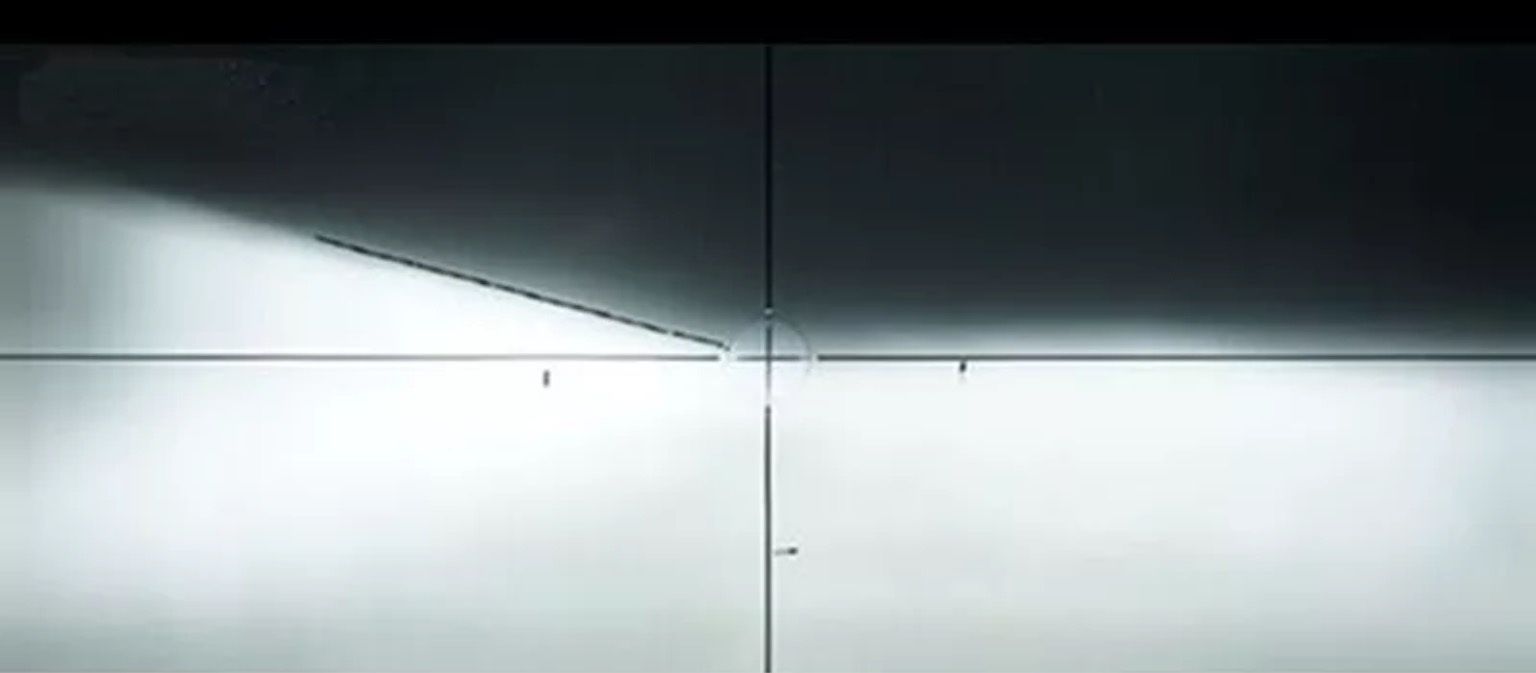 They give a perfect high beam
Our Double Dipper range of dipping bulbs.
BA15d, BA20d, BPF British Pre Focus and P30d APF in negative and positive earth.
Don't confuse our headlamp bulbs with inferior offerings on auction websites.
Click HERE to see the reviews about these amazing bulbs.
Click HERE to see fitting and set up advice for our LED Double Dippers
Each bulb is rated between 6 and 24v so one bulb can be used on 6 or 12v cars.
Bulbs are individually tested before packing
Scroll to the bottom of this page to see the write up and pictures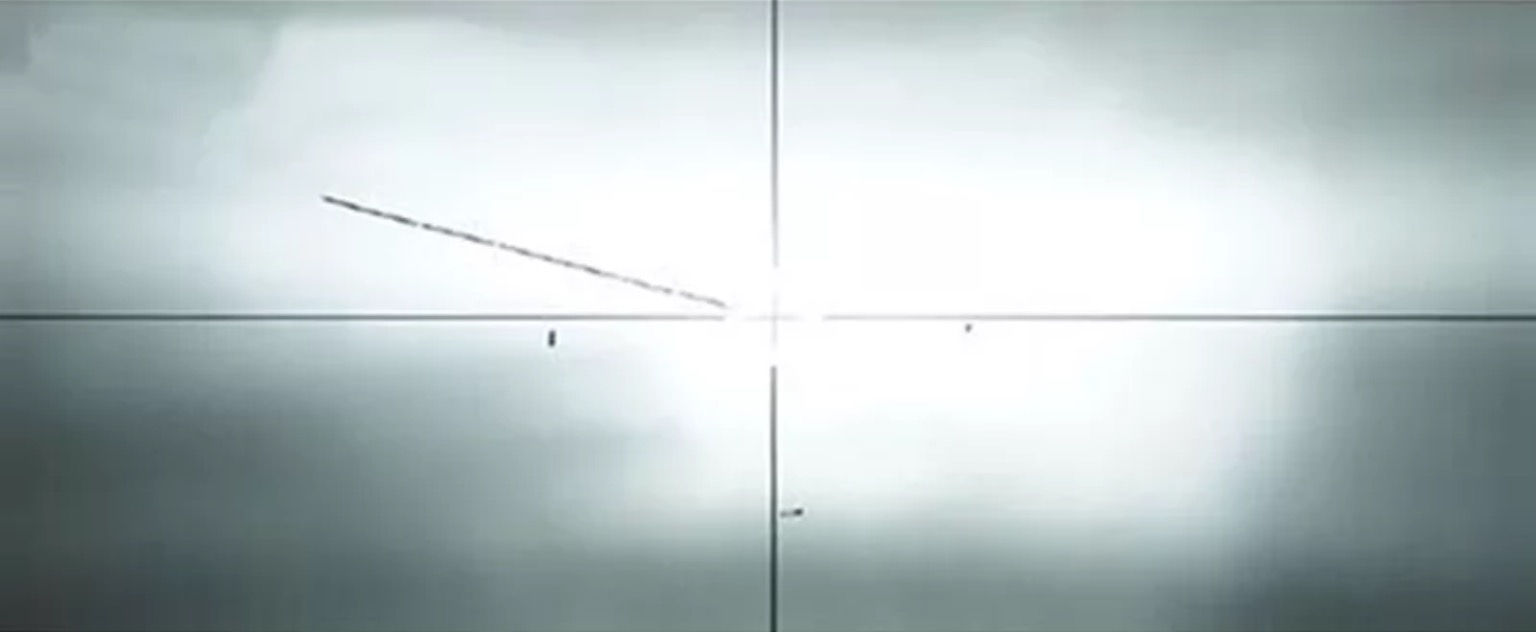 Feedback about our H4's from one of our many satisfied customers

Having been a convert to LED lighting for old vehicles with marginal charging systems for several years now, I am emailing to tell you how impressed I am with your new H4 replacement dipping headlamp bulbs. Last weekend I rode in the Edinburgh Trial,involving 6 hours of night riding,some observed sections in the dark, queueing etc etc. In all this the battery voltage remained above 13v, so thanks to Joe Lucas and the CD&RC solid state voltage regulator, my Lipo battery has been a good move. In use the clearly defined cut off of the dipped beam and its wide spread of light was as good if not better than an H4,and on main beam the clarity and range given adds security for night travel. All this for less than 2 amps on 12v, very successful. Money well spent.




And more, this time from Andrew Mckenzie.........




Andrew did a lot of research into uprated bulbs and

quickly dismissed the plethora of HID light conversions. Many

of these are not EU legal since you require a self levelling system

to avoid dazzling oncoming traffic. However, the new LED light

technology seemed promising, and as more and more prestige

marques are using them first for tail lights and more recently for

headlights, this justified a closer look. A plus point is the fact

that they consume around a third of the power of conventional

lights and so help to lower fuel consumption and emissions.

Andrew found a huge number of manufacturers offering

replacement LED bulbs for the common H4 and H7 fitment,

but eventually settled on one that offered what he was looking

for at a decent price point.

As our photo shoot went on till sunset and we drove home in

the dark, I was able to test these lights on poorly lit country

roads and found they made a massive improvement to the

lighting, sending a good beam of white light down the

road.

I purchased sets for two of my own cars. One of these, and

Andrew's E320 Cabriolet recently passed their

MOT tests with no issues, and I highly recommend

this upgrade for any classic or modern classic

Mercedes-Benz that uses H4 or H7 bulbs.
We stock excellent quality replacement single and twin contact bulb holders for Lucas 1130 type sidelights.
Excellent quality reproduction Lucas ST38 Pork Pie and ST51 D lamps. The quality of these is second to none and they are in my opinion better than Lucas originals. Available in black or chrome finish. We can supply them with filament bulb holders or as a kit to convert them to LED operation. Stop/tail or stop/tail/flasher.
LED headlamp bulbs
"Double Dippers"
Our Double Dippers make night driving in any vintage or classic car (or on an old bike) a pleasure without draining the battery.
6v or 12v in one bulb. Positive and negative earth
Below is an email from one of many satisfied customers (see the feedback page for more)
"You may recall that my twin filament sockets were soldered in place, sadly I was not lucky enough that they had been put in the correct place (even the old filament bulbs were not focused right) - my first outing was therefore brighter but somewhat 'misdirected' . So I made some brass collars (now soldered to the back of the reflectors) up on the lathe, with little pinch screws that allowed me to re-position the bulb holders. I used a big piece of card positioned about two feet in front of the reflector and moved the holder until I got the most even and broad pattern that I could. Actually this meant moving the 'bulbs' back about a 1/4" or so (I had always suspected that the holders were too far forward).
Then I went to a glass cutter and had two patterned glass lenses cut as my previous ones were plain - I cannot stress enough how much difference that made! In my opinion it's a MUST if you want to get the best results from this process with pre-war reflectors, it transformed the quality of the projected beam, I could not believe the difference this made.
Second outing was astonishing frankly, there are modern cars with worse lights! I did a bit of final adjusting in a dark lane to get the beams where I wanted them, avoiding the situation where they might be annoying to oncoming vehicles. The combination of a focused light source and the diffusion provided by the new patterned glass meant that I could obtain great results with both low and high beams. I drove down a variety of unlit roads testing both low and high beams and was really delighted - bright, crisp white light exactly where I wanted it. Never thought that was possible on a vintage car! The acid test was that no passing motorists flashed me for dazzle on the way home" :-)
Attached is a picture of the car in low light - was not quite dark but sufficient to set the beams, which converge superbly just ahead of the limit of the picture right where you need them when sat behind the wheel.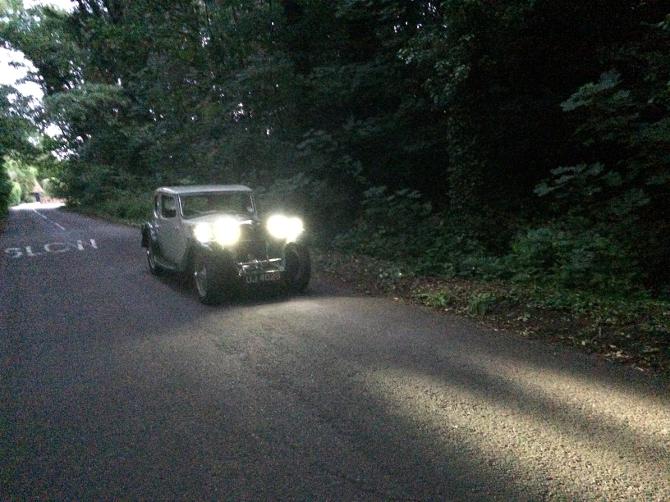 HEADLAMPS ON WITH LED BULBS
SEE THE DIFFERENCE. LOOK AGAIN AT THE HOUSE IN THE BACKGROUND, THE STONE WALL, THE GREEN WHEELIE BIN AND THE AREA TO THE RIGHT AS WELL AS THE COLOUR OF THE LIGHT PRODUCED BY THE BULBS WHICH ARE USING 0.75 AMPS EACH TO GIVE 100 WATTS OF LIGHT.
Other LED dipping headlamp bulbs
Have you seen the light???
6v 50w, 12v 50w.
Our own range of LED headlamp bulbs.
Quality items made in aluminium to give excellent heat sinking and using the latest in LED technology.
They are designed to fit existing bulb holders and use the existing headlamp reflector in the same way that a filament bulb does. They don't give a precise beam in the way that filament bulbs do but instead they emit a low level flood of pure white light in front of the vehicle.
No adaptors are needed, simply remove your old bulb and replace it with our LED bulb.
The Road Vehicles Lighting Regulations 1989 state that no approval markings are required on bulbs fitted to vehicles first used before 1st April 1986 but the minimum wattage of any bulb fitted shall be 30w for 4 wheeled vehicles and 24w for 2 and 3 wheeled vehicles and that their lamps shall not dazzle other road users.
Our bulbs shine a pure white light that has a good spread and if fitted to correctly aligned lamps they will not dazzle oncoming vehicles nor will they dazzle any vehicle being followed.
REVIEWS
I asked half a dozen owner/drivers to test these bulbs for me in all sorts of driving conditions to prove that they did the job they were made to do.
One of the cars that I used to test these bulbs was an early 30's Lagonda with Bi flex headlamps. It was presented for its annual MOT test on the 25th September 2013 with our LED headlamp bulbs fitted.
The car passed its MOT test.
Its driver reported that dark roads were lit by a flood of light and that at no time during testing dazzled other motorists.
Another person reported that it was like having a floodlit football pitch in front of him as he drove!
Another driver who tested these bulbs says.......
Fitting the LED bulbs was a simple job; just remove the conventional bulbs and pop in the LEDs. No wiring and no fuss.
The first thing I noticed on turning on the headlights was brightness of the white light that lit up the garage. Concerned that I might dazzle other drivers, I took a few minutes to adjust the trajectory of the lamps and then the car was ready to go.
My first drive was on lit roads and, to be honest, the LEDs didn't make that much of a difference from a driver's perspective. I had no problem seeing the road ahead but, on a lit road, that applied to the conventional bulbs too.
However, the big difference came when I pulled up at the side of the road, got out and stood, facing the car, on the other side of the road. The LEDs shone out like beacons of light; no danger of oncoming traffic not seeing you! Having driven around the local streets, I had no problems with other drivers being dazzled.
Driving on unlit roads was a revelation!
The LEDs emitted a flood of white light that illuminated everything in my path. The brightness was staggering. It was hard to believe my old Austin could throw out so much light.
The other revelation came when I checked the ammeter. With the engine off, the ammeter flickered slightly when the headlamps were turned on and displayed a tiny discharge. When the engine was started the dynamo kicked in and I was getting a positive charge. I felt confident I could drive for hours with the lights blazing and not deplete the charge in the battery at all.
In conclusion, the test was a resounding success. I use my vintage cars for wedding hire and, up to now, I have been reluctant to accept bookings which involved me getting home after dark. Now I can fit LED bulbs all round and have no worries whatsoever about night driving.
This driver tested them in his Bullnose Morris
I have fitted the 50w LED headlamp bulbs to my Cowley this evening and taken a short drive, the results are stunning,very good spread and surprisingly well focused at the first attempt. The peripheral illumination covers the edge of the road, very useful on dark lanes with no white lines, distance is remarkable, reflecting off signs in the far distance and no problem with glare to other road users, though there would be if they were set incorrectly! With all other lamps being incandescent, I now have a balance at 40mph, + 1 amp or so at 50mph.
An Austin Seven owner who bought a pair of bulbs says.........
I'd been used to 6v austin lamps both of chummy and 1930 types. Let's just say I had to eat a lot of carrots. I can honestly say that these LED bulbs are every bit as good as claimed. The light is white, not yellow. The spread is good and they were in focus straight away no adjustment necessary. The best thing is with all the lights on, the ammeter still shows a healthy positive charge. Every bit as good as I'd hoped.
Peter, I think this is the biggest contribution to vintage motoring in years.
Another Austin Seven owner who bought a pair of bulbs........
Just received the LED bulbs. They were fitted before the postman left! Fantastic! Just as you describe on your website. I can now see and be seen. Wonderful.
These new bulbs are now available in our online shop with BA15s and BA15d caps to suit all vintage cars with fixed headlamps or dipping reflectors that use single filament bulbs with earth return and two wire single filament bulb systems.
The following types are available.
6/12v 40w BA15s
6/12v 40w BA15d
Current consumption is 1 amp to power two 12v 36 watt headlamps and 1.5 amps for two 12v 50 watt headlamps.
3 amps for two 6v 40w bulbs.
Each 36w rated bulb is 500 Lumens
Each 50w rated bulb is 700 Lumens
Life expectancy is 30,000 hours
Our SINGLE FILAMENT EQUIVALENT bulbs for fixed or dipping reflectors and twin filament equivalent dipping bulbs
HEADLAMPS ON WITH 12v 36w FILAMENT BULBS
LOOK CAREFULLY AT THIS PICTURE BEFORE SCROLLING TO THE NEXT ONE. LOOK AT THE HOUSE IN THE BACKGROUND, THE STONE WALL, THE GREEN WHEELIE BIN AND THE DARK AREA TO THE RIGHT AS WELL AS THE YELLOW COLOUR OF THE LIGHT PRODUCED BY THE BULBS WHICH ARE USING 3 AMPS EACH TO GIVE 72 WATTS OF LIGHT.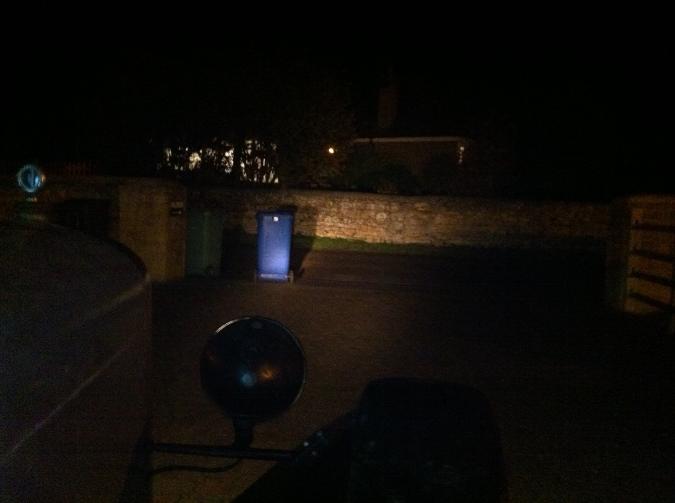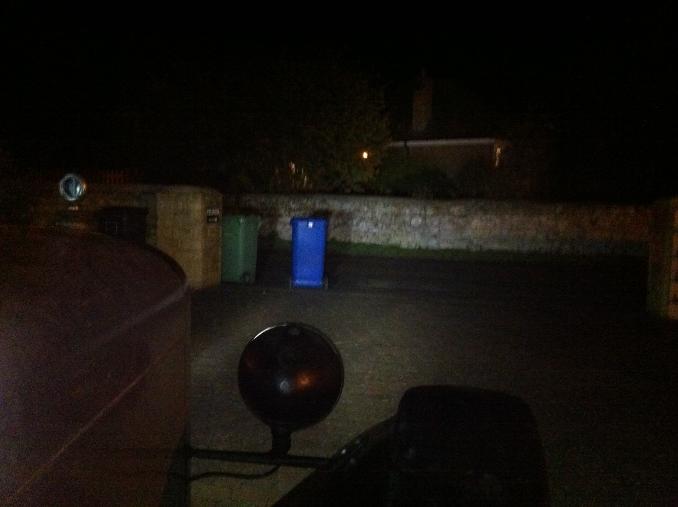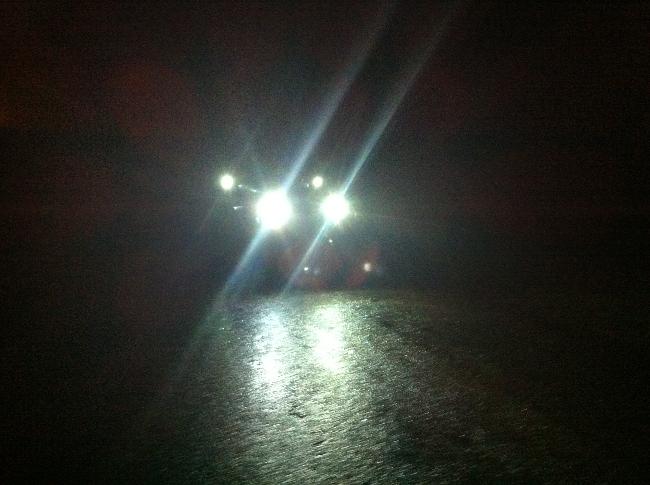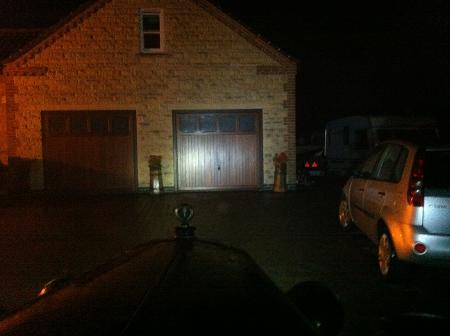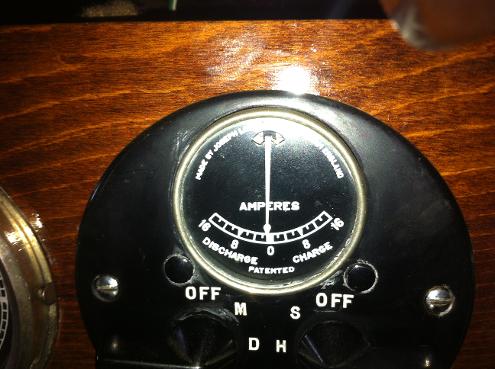 It's difficult to photograph LED headlamp bulbs in the dark without getting glare that isn't there in real life.
Picture 1 shows the bright white light emitted by the LED bulbs.
They do not dazzle other road users at any distance.
Picture 2 shows the beam pattern produced on a flat surface from 30 feet.
Picture 3 shows the ammeter reading with engine off.
Two LED headlights are on as are two LED tail lamps , two LED side lights and two LED dash panel lamps. There is also one LED number plate lamp on.
The discharge as can be seen is 1.25 amps.
With equivalent standard filament bulbs fitted the discharge is 9 amps
That's a difference and a saving of 7.75 amps or 93 watts
The picture below shows the 50w version on the left and the 36w version on the right. Picture taken at dusk.